In 2022 I conducted seven qualitative interviews with prospective users of a new governmental institution, for a project to understand user behaviors and needs. As it was a very time-consuming task, here I share three pieces of advice I can give from experience. I hope it helps you save time in your next research project.
The project I did seek to understand how entrepreneurs of small companies were approaching and managing their taxes. I conducted seven interviews online, and I then analyzed the results with two objectives: to answer research questions and to get information to create Personas.
These are the three most important pieces of advice I can give you from my experience:
It makes a big difference in time and effort to make three to five interviews, or more than ten. It takes a lot of work to find interview partners and making the interviews, so I recommend you define your sample as soon as possible in your research project.
About how to choose the sample, I can recommend you following the guidelines of Uwe Flick in his book "An Introduction to Qualitative Research", chapter 12 "Sampling.
As Flick shows in the following table, there are sampling decisions for interviews and for observations. "The understanding behind these illustrations is that sampling for interviews focuses on the persons you want to work with, whereas in observations it is rather situations you will look for as 'material units'", explains the expert.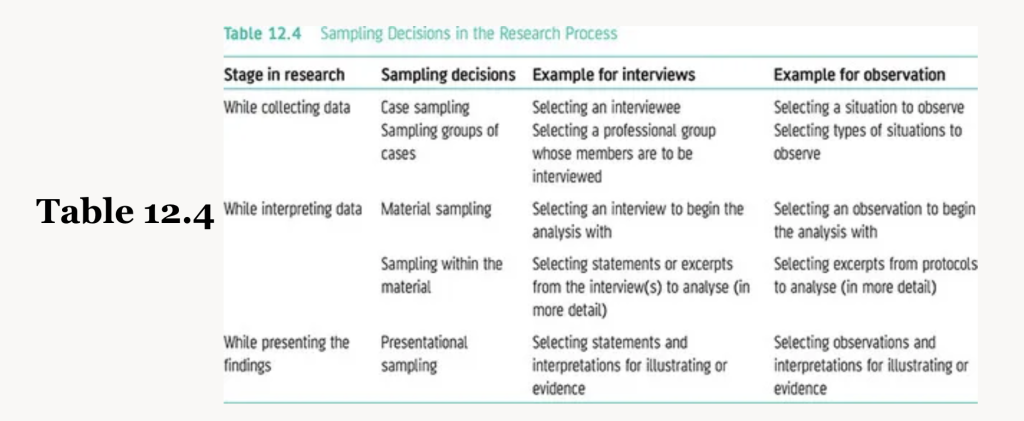 Prepare a good interview guideline
Interview guidelines are documents in which you define with questions you want to ask during the interviews. It is a text that can help you to make sure you ask the same set of questions in every interview.
What I learned in the Qualitative Research course with expert Susanne Sackl-Sharif is that a good interview guideline has the following elements:
A short introduction of why you are conducting the interviews and what topic you will be covering.
A set of main questions you want to ask.
For each main question, add two or more additional questions you would ask to get more information.
At the end, always consider questions to ask the interview partner if he/she would like to add something else that was not covered during the interview. In my experience I found that the question "Is there something else that you would like to address?" revealed topics that were important for the person being interview, but that were not considered in the questions.
A key element to consider in the guideline is that the questions are always open questions. The idea of the interviews is to get opinions and understand experiences and feelings. If you ask a closed question like "have you had a problem in the last three years?", the answer will probably be "yes" or "no". Instead, if you ask, "how did you feel last time you had a problem", you will get a deeper knowledge of the interview partner's experience.

Define and follow a method to transcribe and analyze answers
Before you conduct the interviews, make sure you plan how to transcribe and analyze the data you will get.
Consider that you will need to transcribe all the interviews you make, before conducting any analysis.
For transcribing I can highly recommend you get the help of online software and use your time and energy to edit and correct the transcriptions. I suggest using the tool Sonix, which works very well – I have tried it in Spanish and English and got very good results.
For analyzing data, I can also recommend learning how to use software to analyze several texts at the same time. I used with success a tool called MAXQDA.
But beyond the technological tools, you will need a method, an approach to analyze the more than a thousand words you will probably get in answers. If you are interested in this topic, I wrote another post about a method from Qualitative Research I used and can recommend. It is called Thematic Coding.
I hope these pieces of advice help you to save time and efforts next time you decide to interview your users.